Parasitic metro-Atlanta illness reports continue, hotspots develop | News
ATLANTA -- It's a story that continues to be a mystery and appears growing in its reach.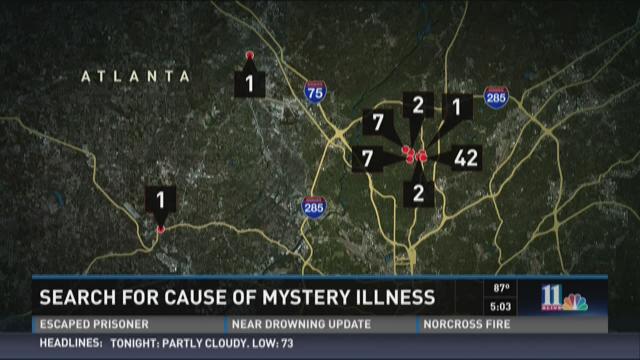 There are now dozens of Fulton County residents who have reported being sickened with a mysterious illness.
Doctors in Buckhead said they've had an influx of patients with a parasite called cystoisosporiasis.
But the big problem is that no one knows exactly how they got it.
While the state health department is looking into the issue, residents are asking 11Alive to look deeper into some of the commonalities that have been reported.
A recent compilation of information received from viewers reveals where residents have reported being sick with a host of symptoms including diarrhea, vomiting and nausea.
11Alive has worked to connect the dots and narrow down where the parasite could have originated based on information received.
The results have been compiled in a map that shows where viewers said they visited, ate and came into contact with water before they got sick.
The map shows most of the reports around a few Buckhead restaurants. Some of the other high-travel locations were pools, grocery stores, restaurants and other places immediately at or around Chastain Park.
There were also isolated reports from Austell and Marietta which are outside of that main cluster.
11Alive called one of those restaurants that had a lot of traffic in the last month and spoke with the manager.
They said that the health department has been in contact with their restaurant and others in town.
The manager said that although none of his employees have become sick, they have contacted their food suppliers, had additional health inspections and did overviews on food safety.
But, at this point, the health department has yet to find a source of the parasite.
Doctors said that if anyone does get the illness, they need to see a healthcare provider because they will need an antibiotic. They said that the illness is more uncomfortable than it is dangerous.
PHOTOS | Fascinating new science discoveries