Temporary sewer line blocks Atlanta intersection | News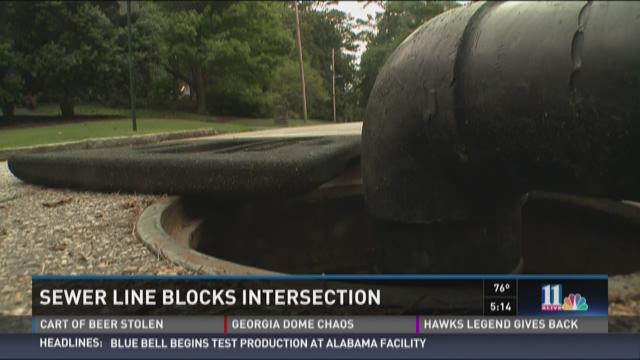 ATLANTA -- A temporary above ground sewer line extending along Nancy Creek Road and ending up in the middle of the Ridgewood Road intersection has neighbors fuming.
They said that no matter what they do, nothing has been done to fix leaky pipes, clear out the intersection or remove the above ground temporary line.
What neighbors now face is an obstacle course in the middle of a busy intersection and there's nothing being done to get rid of it.
The temporary sewer line extends about a quarter mile ending at an open manhole right in the middle of the Ridgewood Road intersection.
"You creep up here and you think people are going to stop but you can't see. It's very dangerous," said Jennifer Black, who lives around the corner.
The community has been trying for four months to get Atlanta Watershed Management to come out and take the sewer line back underground.
On Thursday, 11Alive's Help Desk contacted Atlanta Watershed to get results.
The Help Desk's Bill Liss also saw just how dangerous the intersection was for motorists and cyclists.
One of the neighbors, Walker Candler, presented a scary scenario.
"Once you get up here [to the Intersection], you have to see if anyone is coming from the right," Candler said. "If a driver wants to go left you have to get out of the way because he can't go around and get past you.
And the problems don't end there.
"Even head-on, you have to take turns going straight because the car on the other side has got to go around the cone and you have to go around the cone as well," he said.
It's a confusing situation that's also very dangerous.
Neighbors said they just keep getting put off, month after month - lots promises but nothing being done.
"There are hundreds of emails back and forth from the community complaining about it," Candler added.
The bottom line: get Atlanta Watershed to repair broken pipes and get this sewer line back underground.
The Help Desk succeeded in less than a day.
"I can promise you right here and right now that this is going to be done and underway within a week," said Lilian Govus of Atlanta Watershed Management, who came out to meet with Candler.
After months and months of delays, everything is now on track to be back to normal on Nancy Creek.
Other Help Desk stories:
Help Desk gets trash removed from Tucker apartment lot
Help Desk cuts through red tape to get boy new wheelchair
Neighbors fight noisy hospital AC units