Popular Atlanta restaurant group closes with little notice | News
ATLANTA -- Ten popular Atlanta restaurants will not open for business Tuesday after the ownership group closed to reorganize. 
Here to Serve Restaurants runs Prime, Strip, Noche, Twist, Smash Kitchen, Coast Seafood, and Shucks Oyster and Wine Bar. The company's website now carries a message saying, "We apologize for the inconvenience, we are working on reorganization. Hopefully, we will be here to serve you again soon!"
Employees of several of the restaurants told 11Alive News no one has passed along any official information. They've heard about the closings through word of mouth or when they showed up to work and found chains on the door.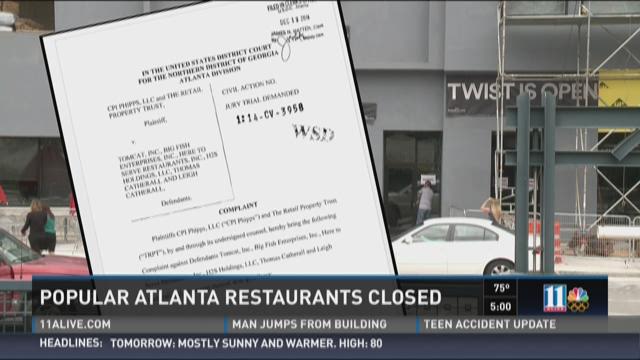 "We're the foundation of the company, if anybody should have known, your salaried employees should have known in advance," said Cody Lamback.
Workers said they're worried about getting paid for work they've already done. 
The email also confirmed the restaurant would not open Tuesday: "It is with heavy heart that I let you know we will not be opening up tomorrow.  Worker's Comp insurance was stopped by OASIS.  We can not work with out it. Instead of putting resources toward wc insurance we chose to get people paid...I am so incredibly saddened by our inability to get us out of this mess.  I want to thank each of you for holding your heads up as we tried to rectify this and move forward."
Some employees told 11Alive that they wish the ownership group had given them notices. 
"It's just really inconsiderate especially since its so many employees, it's like a thousand employees with no notice," said Kiamesha Black.
Court documents show Simon Proprieties sued the restaurateur when the ownership changed as part of the owner's divorce settlement.
More food stories: