Atlanta French community unites to remember victims | News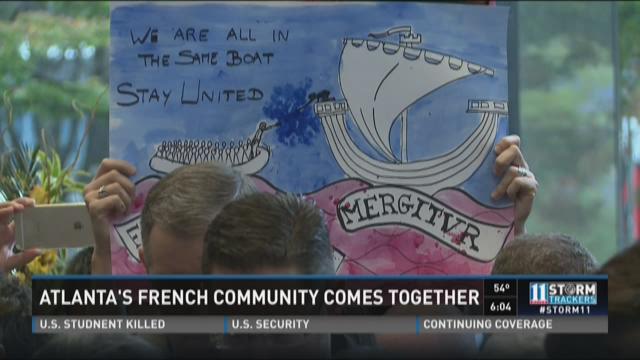 ATLANTA -- More than 300 people gathered together Sunday inside the French Consulate in Atlanta to unite and remember the victims from Friday's attack terrorist attacks in Paris.
The hundreds who turned out draped themselves in flags, painted their faces, and carried signs in support of France.
They sang the French national anthem, at one point the Vice President of the people of the Consulate General of France in Atlanta chanted "we are not afraid" in English and French as the crowd cheered.
Their solidarity provided hope for many, their message reinvigorated those who are weak, but the pain continued to pour from their hearts.
"Sadness, heartbroken, the same feeling I had on 9/11," said Henriette Ostrzega, French/U.S. citizen.
Parents draped their children in French flags, kids painted their faces with the red, white and blue, and hundreds gathered side by side inside the French consulate in Buckhead.
"I just want them to grow up to be good people, and I want them to have faith that good can prevail," said Angelique Desario, French/U.S. citizen.
The warmth in the room and the closeness of this crowd seemed to at least for a moment allow some to begin to heal and recover from Friday's terror.
Fear following the kind of terror that has the French people across the world asking why is difficult to overcome."Unite, unite and remember, remember and then try to do something so it doesn't happen again," said Ostrzega.
This group though said there's no doubt it will.
"We're going to stand up, we are going to fight for our freedom and we're not afraid," said Dominique Lemoine, Consulate General of France in Atlanta.
Unity, solidarity, and hope are words we kept hearing over and over inside the French Consulate Sunday.