Thieves pull off Buckhead smash-and-grab despite 24-hour surveillance | News
Title (Max 100 Characters)
Thieves pull off Buckhead smash-and-grab despite 24-hour surveillance
ATLANTA -- A Buckhead business owner is singing the blues instead of Christmas carols after a smash-and-grab.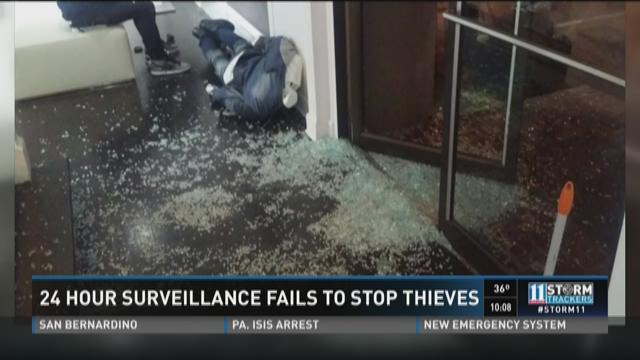 Employees of the Atlier Boutique clothing store on Piedmont Road in Buckhead had started taking turns spending the night to guard the store against break-ins and thefts. They thought 24-hour surveillance would keep the smash-and-grab thieves away -- and for a time it was working -- but the moment that the surveillance stopped, the thieves struck.
Early Friday morning, the employee who was on overnight duty left to take a break and get something to eat. It was at that moment the thieves smashed through the front glass, stripped the racks bare, and vanished.
"It seems like they have been watching us," said Kayla Stewart, one of the store's employees.
She said everyone at the store was trying to be proactive because of all the recent retail smash-and-grabs.
"It has not ever happened to us before.  But we have been wary, since we have heard that there have been a lot of break-ins, especially in this area," she said. "Unfortunately, we had to take a big hit to our business. Our whole store was pretty cleared out, so -- thousands of dollars."
Sgt. Warren Pickard of the Atlanta Police Department said APD is analyzing every single smash-and-grab, not only to track down the thieves and the merchandise, but also to see patterns and connections, to be in position to prevent them as much as is possible.  He said that what all the smash-and-grabs have in common is how little time the thieves need to do their damage:
"It takes a matter of seconds," he said. "In fact, we have timed this on occasion, you can be in and out of there in 30 to 45 seconds. They come away with thousands of dollars worth of merchandise, and leave thousands of dollars worth of damage, as well."
Meanwhile, Stewart said the thieves' disregard for store property is frustrating.
"They were just getting what they could, if it caught their eye."